Image Gallery
---
Paris Postcard Collection

Paris in Color

Paris From the Bus

Paris in the 60's

Leonard in Paris

Other French Cities

Slayton Family

Detroit 1962

Leningrad

Cork, Ireland 1962

Bali 1973

My Graphic Art

My Dancing Ladies


My Sculpture

Pulp Covers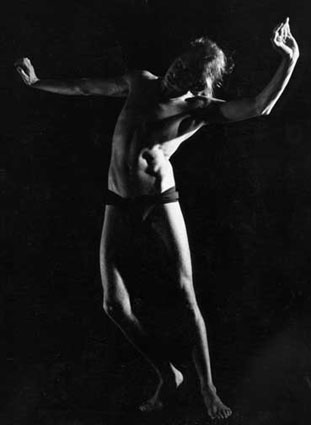 Click here to see more of the My Performances gallery.

These photos cover only a part of my performing career. I have been very lax about documenting my work. I have nothing from ARE ARE, a show I co-created and performed with George Coates Performance Works, or Fo, Faux Fo, and Mo Fo that I wrote and performed with Ed Holmes of the San Francisco Mime Troupe in, I think, 2003. Nor do I have anything from Seduction, a show I created and performed with Ruth Zaporah in 1997. Wish I had more from Meantime and Not For Real. Nothing from Ned, a one-man show written for me by David Barth.

Now for credit where credit is due.

2019 Blake was created out of 30 days of improvisation with George Coates who also directed the piece. Same goes for Meantime. 2019 Blake opened in 1977 and played at several venues in Berkeley and San Francisco. Our last run was in a midnight series in the basement of a church in San Francisco. The last show had a waiting list of 100 people so I did a second show at 1:30 am.

Doppo, Clown of Yesteryear was created in 1979. The character evolved out of the wooden mask I had carved that year. I wrote the show and had some able feedback from colleague Clifton Baron. Not For Real was created with and directed by Rinde Eckert. Spleenix was created with and directed by Ellen Sebastian Chang.



"Pitt's exquisitely controlled body and facial expressions are a technical and spiritual revelation."
- The Baltimore Evening Sun

  "[Pitt] shouldn't be missed . . . [he] defies classification. He speaks sometimes, therefore he cannot be a mime. He is too serious for vaudeville, too funny for drama and too eclectic to be pigeonholed as being anyone else but himself."
-Los Angeles Times, San Diego Edition

"Bedazzled and befuddled . . . bewitched, bothered and bewildered. Not to mention captivated, devastated, edified and fascinated. Even if you like, awed. I have just seen Leonard Pitt."
- San Francisco Examiner

"For adventurous souls eager to enter the world of avant-garde performance or for those eager to simply see a young genius at work . . ."
- San Francisco Chronicle

"A Study In Strangeness"
- The New York Times

"Welcome to Chicago, Leonard Pitt. And what an interesting way you had of saying "hello" to us, eating your face on the stage of the Organic Theatre...The success of this show rests on Pitt's amazing ability to - it isn't as easy as you think - move."
- Chicago Tribune

"Amazing physical transformations . . . Pitt creates images with his body and a diverse range of props which are always original and often starkly, almost painfully beautiful."
- The New Zealand Herald

"A walk on the weird side . . . a highly entertaining and talented gentleman albeit strange . . . his madness does appear to progress in a certain direction."
- The Baltimore Sun

"His lecture-demonstration, an introduction to his theories of mime and movement, and an elaboration of his mask work was the most interesting, informative and entertaining hour-and-a- half I've spent in the theatre in a long time."
- San Francisco Chronicle